Are you looking for a full-on comedy and entertainment-filled Marathi Natak? Or a Paisa Vasool Natak that keeps you entertained at the edge of your seat? Well, then Tu Tu Me Me, a cinematic & comedy Natak is your answer.
Kedar Shinde and Bharat Jadhav, a powerful-renowned duo from the Marathi Natak industry, have come back with a blast of comedy in the form of Tu Tu Me Me Natak – Bharat Jadhav's One-Man Show of 14 Hilarious Characters.
The Tu Tu Me Me team has several upcoming shows scheduled and has already begun receiving enthusiastic applause from the audience. In this blog post, we will provide a comprehensive review of the Tu Tu Me Me Marathi Natak, highlighting the important elements that make it a must-see comedy Marathi Natak.
---
Also Read – 5 Best Marathi Natak To Watch In 2023!
---
Tu Tu Me Me Marathi Natak – Story
Tu Tu Me Me, written and directed by Kedar Shinde and produced by Bharat Jadhav Entertainment and Mrs Sarita Bharat Jadhav, is Bharat Jadhav's multi-character masterpiece. It promises infinite waves of laughter from the start till the end.
The story of Tu Tu Me Me Natak revolves around two married couples and portrays their lives after marriage. However, both couples feel that their partner is not a suitable match for them. Due to this, they believe that there is a mismatch between them.
Consequently, they decide to get divorced. Interestingly, both couples appoint the same advocate to handle their cases. The advocate suggests exchanging their partners and living together for the next 15 days.
Now, what exactly happens in these 15 days is something that you must see yourself in one of their upcoming shows of Tu Tu Me Me.
Book your tickets on BookMyShow – Tu Tu Me Me Marathi Natak Tickets
Most importantly, Bharat Jadhav, a superstar of the Marathi industry, is set to play 14 multiple hilarious roles in this Marathi Natak called Tu Tu Me Me.
Tu Tu Me Me Marathi Natak – Kalakaar (Cast)
In Tu Tu Me Me, the comedy Natak, we will get to see two couples and Bharat Jadhav in multiple roles. Kamlakar Satpute and Ruchira Jadhav portray the first couple, while Nikhil Chavan and Aishwarya Shinde play the second couple.
Kamlakar Satpute, who was also a part of the original Tu Tu Me Me Natak, played by the legendary actor Vijay Chavan, has once again delivered an outstanding performance. With excellent timing and a talent for comedic acting, he promises to keep the audience entertained.
Adding on, Tu Tu Me Me has come back on stage after 26 years. Back then, our very own Viju Mama had played 17-18 roles in this Natak, and today, with the same spirits and efforts, we see Bharat Jadhav playing 12-14 characters in this Natak. Truly bringing back all the sweet & old memories.
Why Bharat Jadhav's Tu Tu Me Me Natak Is A Must-Watch?
In Tu Tu Me Me, a cinematic Natak, we will get to see Bharat Jadhav in 14 different roles. His comic timing keeps the audience stunned, surprised and will surely leave you in awe and anticipation.
Within seconds, he changes his outfits and appears before the audience in multiple roles, one after another. This element of surprise is going to keep you engaged and excited till the end, eagerly anticipating his next character.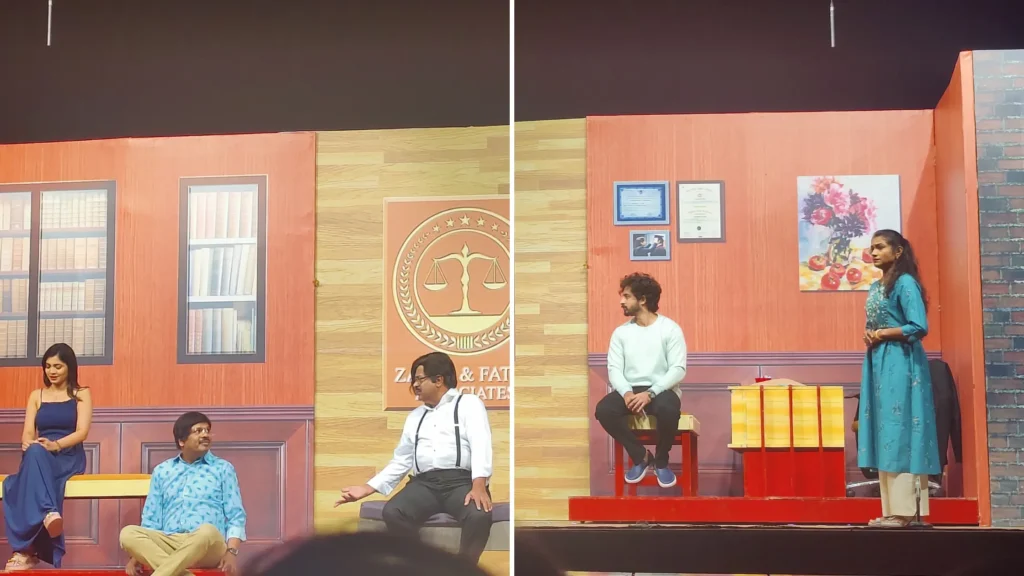 Tu Tu Me Me is more than just a comedy Natak. It also boasts impressive background sets that are changed live within a fraction of a second, along with sweet little songs and dances that will leave you applauding their performances.
What's surprising is that with every new role of Bharat Jadhav, you'll get to see multiple background sets. Indeed a brilliant job by the set designers.
Finally, a good ending and a meaningful message to take home is what we all look forward to in movies and Nataks. Similarly, Tu Tu Me Me aims to convey a message of trust among couples. This Marathi Natak emphasizes the importance of trust in relationships and urges people to start trusting their partners in order to have a great and successful married life.
So what are you waiting for, do head over to one of the upcoming shows of Tu Tu Me Me. Without any doubt, the thrill of watching Bharat Jadhav seamlessly switch between multiple roles back-to-back is truly a sight to behold.
---
Also Read – The Best Marathi Natak – Aamne Samne – A Blockbuster Hit With Modern Story – All Presented in A Hilarious Way