The world of theatre, & especially Marathi Nataks, is filled with a myriad of captivating performances that transport us to different realms and challenge our perceptions. From revolving sets to live musical Nataks, from snowy effects on stage to comedy-filled entertainment Nataks, we have it all today. Among these, Gajab Tichi Adaa Natak shines as a new remarkable Natak that combines a mesmerising spectacle of dance, music, and a compelling storyline.
Have you ever imagined a fully musical spectacle in Marathi theatre similar to the famous Sound of Music? Luckily, Gajab Tichi Ada stands as a shining example of this innovation. Therefore, here are four compelling reasons why you need to watch this soul-stirring musical Natak. In addition to this, do read the entire blog as we also have an exciting offer, especially for students willing to watch this Natak.
#1 Marathi Musical & Visual Extravaganza
Gajab Tichi Adaa Natak, produced by Anamika and Rangpeeth Theatre Mumbai, written & directed by Prof. Waman Kendre, effortlessly combines visually stunning dances and wonderful music. Eventually, creating a mesmerising spectacle for the audience. The graceful movements of all the female artists, accompanied by enchanting music and dance, form a perfect combination to watch.
The music of Gajab Tichi Adaa is truly a feast for the ears. Trust me; the music is so melodious and sweet that it will keep lingering in your mind even after the Natak has ended. It is a musical experience that is both immersive and unforgettable. One of the key highlights of Gajab Tichi Adaa Natak is its songs, as the artist sings them live on stage as well.
Here is a short glimpse (video) of the Natak Gajab Tichi Adaa –
#2 Powerful Female-Led Story Of Challenging Gender Stereotypes
First and foremost, the story of Gajab Tichi Adaa Natak is surely a relatable concept in today's world. It is a powerful female-led story that has a thought-provoking narrative. As the curtain opens, we get to witness a story that unfolds in a kingdom where a power-hungry king aspires to conquer its neighbouring lands and prepares his soldiers for war.
Secondly, the ambitious king, who aspires to establish his reign over neighbouring kingdoms, narrates the story to his soldiers, urging them to endure the battles that lie ahead. He acknowledges the wounds they will sustain and the pain they will endure. Even if their blood is shed, he encourages them to continue their struggle.
---
Also Read – 5 Best Marathi Natak To Watch In 2023!
---
These are the words of a leader who instils a sense of duty and patriotism in his soldiers. Without any doubt, Gajab Tichi Adaa Natak offers insights into the mindset of today's rulers & leaders who are driven by their thirst for power as well as the desire to always be better than others.
Upon winning the war, the victorious king is greeted by a caravan of 21,000 women. As a symbol of power and support. The women, in a powerful moment, sing a comforting song that awakens the warrior spirit within their soldier husbands. The Natak deals towards the world of war and violence.
Sadly, a war that just leaves behind immense loss, devastation, and human casualties, all of which could be prevented through mutual understanding and peaceful resolutions. Are wars fought for valid reasons? How are the devastating consequences of war overlooked despite numerous conflicts throughout history? These are some of the thought-provoking questions raised by Marathi Natak Gajab Tichi Adaa.
#3 Relevant Social Message Of The Consequences Of War And The Need For Women's Empowerment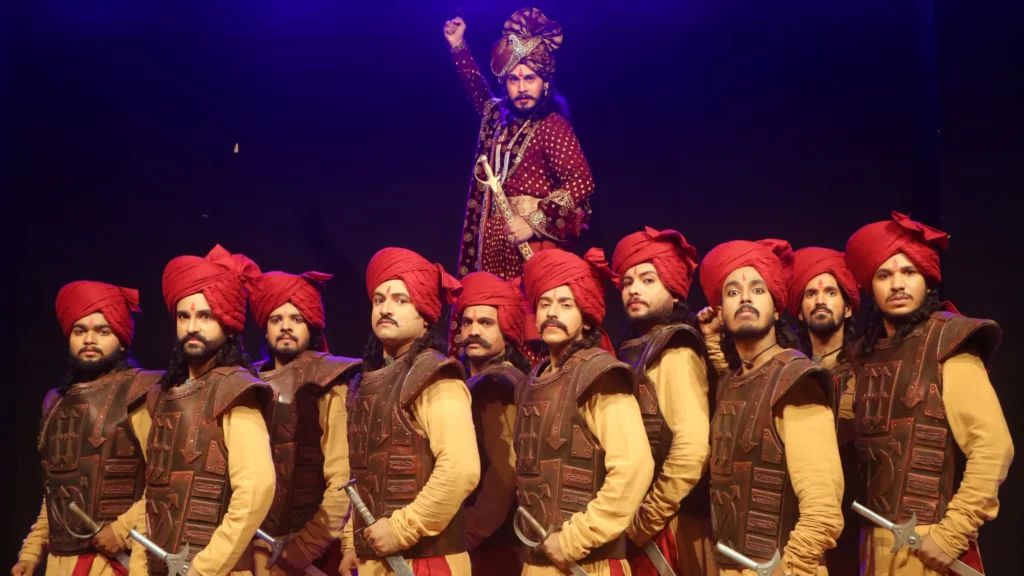 On the other hand, a group of women challenge these traditional gender roles and advocate for peace. They decide to advise their husbands to stop going to war in order to avoid its harsh later consequences. They want their husbands to reflect upon the consequences of war and the value of peace.
However, their thoughts go completely unignored by their husbands due to their blind loyalty to war and to contemplate the true cost of victory.
Therefore, the powerful female protagonist – Lakshmi, inspires and empowers the group of women to challenge these societal norms and fight for a harmonious world. She suggests an innovative approach to make their husbands (the soldiers) listen to their wives' advice. For instance, she says to avoid all physical connections with their husbands until they choose not to fight or go to another war. And that's when the battle between them starts.
Unable to endure their wives' decisions and facing numerous challenges, their husbands decide to bring this issue to the attention of their king and make a joint effort to abstain from participating in the upcoming war.
Now how the group of women are able to convince their husbands and the king to stop the future war is something that needs to be watched in one of the upcoming shows of Gajab Tichi Adaa Natak.
You can book your tickets here – Gajab Tichi Adaa Natak Tickets
Of course, as mentioned above, here's a special offer for VeryFirstTale's Readers –
25% Discounted Rates For Students –
Students willing to watch Gajab Tichi Adaa Natak can get a flat 25% discount on the total ticket price. Just head over to the respective ticket counter 1 hour prior to their show with your school/college ID card and avail this benefit as much as possible.
#4 The Talented Set Of Artists Who Put Their Heart & Soul Into The Natak
Indeed, the entire cast (kalakaar) of Gajab Tichi Adaa delivers powerhouse performances that leave a lasting impact on the audience. To everyone's surprise, Gajab Tichi Adaa is the first commercial play for all the artists in this Natak. However, their performance is so polished and experienced that it feels as if they have been part of Marathi theatre for a long time.
A very sweet thing to witness is how these artists coordinate with each other to deliver dialogues with utmost synchronisation and balance. Undoubtedly, more than 5 people speaking the same dialogue together needs a lot of practice and effort, which is quite evident in them.
Truly, the entire team of 23-25 artists (kalakaar) has done an amazing job; kudos to all of them – Rutwikk Kendre, Karishma Desale, Shruti Haldankar, Tejaswini Kurade, Vaishnavi Ghodake, Mohika Gadre, Anikta Desai, Samprati Patil, Shwetanil Sawant, Tanvi Dhuri, Sankriti Jadhav, Samridhi Desai, Mandar Pandit, Sachin Jadhav, Amol Jadhav, Mangesh Shinde, Sumit Bhalerav, Anup Harishchandre, Darshan Raikar, Rohit Kulkarni, Mahesh Jagtap, Manish Jadhav, Mahesh Mahalakar.
Production – Anamika + Rangpeeth & Saisakshi
Writer/Director/Music – Prof. Waman Kendre
Set Design – Naveed Inamdar
Lighting Design – Sheetal Talpade
Costume Design – S. Sandhya
Music Composition – Prashant Kadam, Subhash Kharote
Choreography – Anil Sutar
Producer : Gauri Kendre, Shrikant Tatkare, Dinu Pednekar
Last but not least, Gajab Tichi Adaa is a spectacular musical production from the Marathi Rangabhoomi that challenges societal norms and leaves the audience pondering over the true cost of war. Don't miss the opportunity to witness this unique Natak that celebrates the strength and resilience of women while advocating for peace and unity.
---
Also Read –
Janmavaari Natak Review – A Tale of Personal Choices & Their Impact on Destiny!
Tu Tu Me Me Marathi Natak – Now Watch Bharat Jadhav In 14 Hilarious Characters!