Our childhood cannot be fun without remembering the infamous tales & stories of the Bokya Satbande Movie. Indeed, the Bokya Satbande story holds a special place in our hearts. Fortunately, the same character of the smart and intelligent Bokya has now graced the stages of Marathi theatre. This time, it brings even more entertainment, enjoyment, and a compelling social message that will leave a lasting impact on the audience.
A Marathi theatrical masterpiece written by our very own legendary actor & writer – Dilip Prabhavalkar, has brought the character of Bokya to life through his book series, and now it graces the stage, captivating us with its charm. The Natak also showcases the vibrant and colourful world of children, highlighting their unique perspectives on the happenings around them.
Luckily, to my pleasure as an avid Marathi Natak enthusiast, I recently had the pleasure of watching the Marathi Natak Bokya Satbande. Therefore, here is our review of Bokya Satbande Marathi Natak and some sweet reasons why you shouldn't miss watching it.
---
Also Read – 5 Best Marathi Natak To Watch In 2023!
---
Bokya Satbande Natak Story
First and foremost, the story of Bokya Satbande introduces us to the cheerful character of Chinmayanand (played by Arush Bedekar), who is known for his extraordinary wit and playful nature. Produced by Rahul Karnik, Ranjit Kamat, Dipti Pranav Joshi & Milap Theatre Together, directed by Vikram Patil and Dipti Joshi, concept by Pranav Joshi, and written by Dr Nilesh Mane – Bokya Satbande is perfect enjoyment & entertainment for the kids.
As the curtain opens, the Bokya Satbande Natak showcases us to the sweet family of Chinmayanand, along with his two dearest friends, Meeni and Yash. Bokya loves taking care of animals and is a true animal lover. He decides to keep animals as pets to ensure they receive the utmost care and love, away from all the cruelty and harm done by humans.
His mother and grandmother persist in not keeping pets in their home due to his dad and society's regulations. However, due to Bokya being the beloved one, they agree to adopt a dog, a cat, a rabbit, and a turtle at their home.
However, in the society they live in, they are not allowed to keep live animals and pets. Sadly, the family is faced with a decision: either they have to leave all the animals back on the streets or abandon them in order to live happily by rule in their society.
Reluctantly, the family realises that they have no choice but to adhere to the rules of their society. It breaks Bokya's heart to think of parting ways with his beloved animal companions, whom he has grown to love and cherish. The once lively and vibrant household now carries a heavy atmosphere of sadness and anger from his dad.
But as we all know, Bokya always has a solution for any challenge he faces. In addition to this, whenever he encounters a hurdle, he always seeks guidance from his grandfather, whose voice resonates within his mind. Interestingly, the voice belongs to none other than our beloved Dilip Prabhavalkar.
And finally, in Bokya's clever manner, he decides to save these animals, and this is precisely what unfolds in the second beautiful half of the Bokya Satbande Natak.
Now what exactly happens in the second half of the Bokya Satbande is something you need to watch in one of their upcoming shows.
You can book your tickets here – Bokya Satbande Natak Tickets
Bokya Satbande Natak Video Glimpse
Here is a short video glimpse of Bokya Satbande Natak –
4 Reasons You Should Not Miss Watching Bokya Satbande Natak
Without any question, Bokya Satbande Natak does evoke a sense of nostalgia and urges us to contemplate the world we live in. Therefore, here are four reasons you should not miss watching Bokya Satbande Natak.
#1 Nostalgic and Thought-Provoking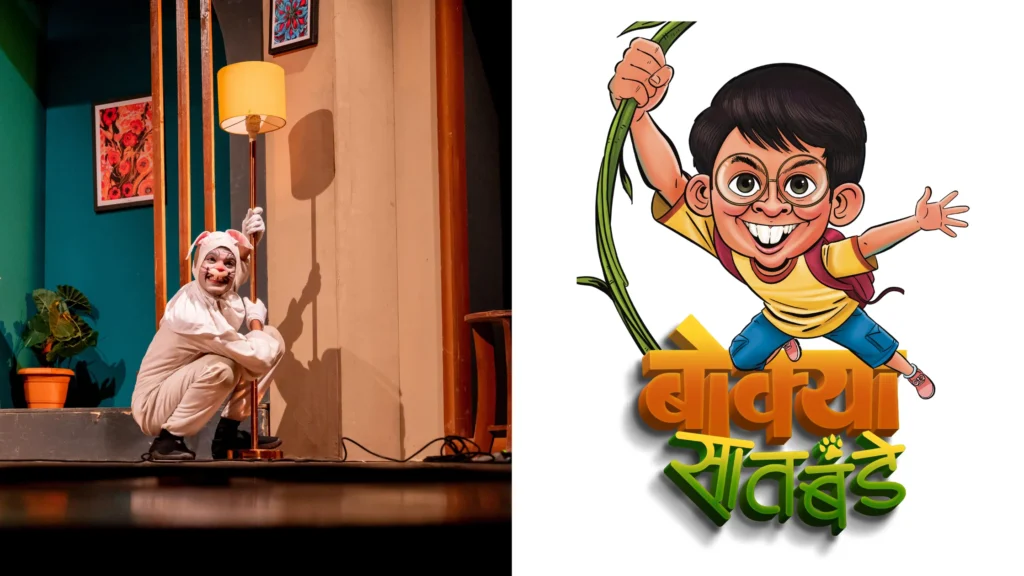 Bokya Satbande Marathi Natak does take us back to those old times and old school days. Watching this Natak is surely an experience for the kids as well as their parents. With its compelling social message about environmental care and displaying affection towards animals, this Natak serves as a truly thought-provoking one-time watch.
#2 Talented Child Artists Who Are The Future Of The Marathi Theatre
These gifted child artists from the Natak, as young as 4 years old, have delivered an exceptionally adorable performance that leaves the audience in awe. Their dedication, cute acting skills, and ability to bring their characters to life are truly commendable. It is inspiring to witness such young talents who possess the potential to make a significant impact on the theatrical landscape.
#3 Excellent Set Design By Sandesh Bendre
The very famous Marathi Set Designer Sandesh Bendre never fails to amaze us with his remarkable skills in set design. His exceptional talent has indeed won him numerous awards, particularly for his outstanding work in Safarchand Marathi Natak.
The set of Bokya Satbande Natak shows us two distinct set designs, both before and after the interval, showcasing Sandesh Bendre's creative power. The second half of the play unveils a stunning set depicting a jungle, transporting us to a whole new world and elevating the overall experience.
Additionally, special mentions and kudos to the lighting team for their impeccable execution of lighting and special effects, adding a touch of magic to this Natak. Their attention to detail adds depth to the story of this Natak.
#4 Heartwarming Music & Lovely Dances
Accompanied by the soulful compositions of Vaibhav Joshi, Bokya Satbande Natak has a very powerful title song. The musical score, curated by Ninad Mhaisalkar, perfectly complements the storyline and makes the kids dance to the songs.
One very beautiful moment of the Natak occurs right after the curtain opens following the interval. It features a very cute and adorable dance by a peacock that will leave you in awe. The performance is a delightful spectacle, enhanced by the impressive lighting and mesmerising backgrounds. Watching this scene is truly a joyous experience. We also get to see a very nice sequence of Bokya vs Pushpa.
Most importantly, Bokya Satbande is also set to come to your nearest theatres in the United States of America. So do they stay tuned for updates regarding the same as well.
Last but not the least, Bokya Satbande Natak is a sweet and appealing Natak that not only entertains but also provides valuable life lessons. So, if you're looking for a Natak that will take you back to your childhood and leave you with a renewed perspective on life, Bokya Satbande is the one for you.
---
Also Read –
Sumi Ani Amhi Natak Review – Now Watch Mohan Joshi's Powerful & Sweet Comeback!
Gajab Tichi Adaa Natak Review – 4 Reasons You Need To Watch It Now!