My Wife's 8th Vachan is a Hindi-English comedy play, by Anup Soni, Monisha Singh Katial, and Vinay Jain that beautifully combines together humour and heart into a story that feels all too familiar. This play blends together laughter, emotions, and adds a personal touch of self-reflection.
Luckily, I also got a chance to watch My Wife's 8th Vachan and here is my personal review blog of this play.
My Wife's 8th Vachan Is A Story Of A Couple Lost in Daily Fights and Bickering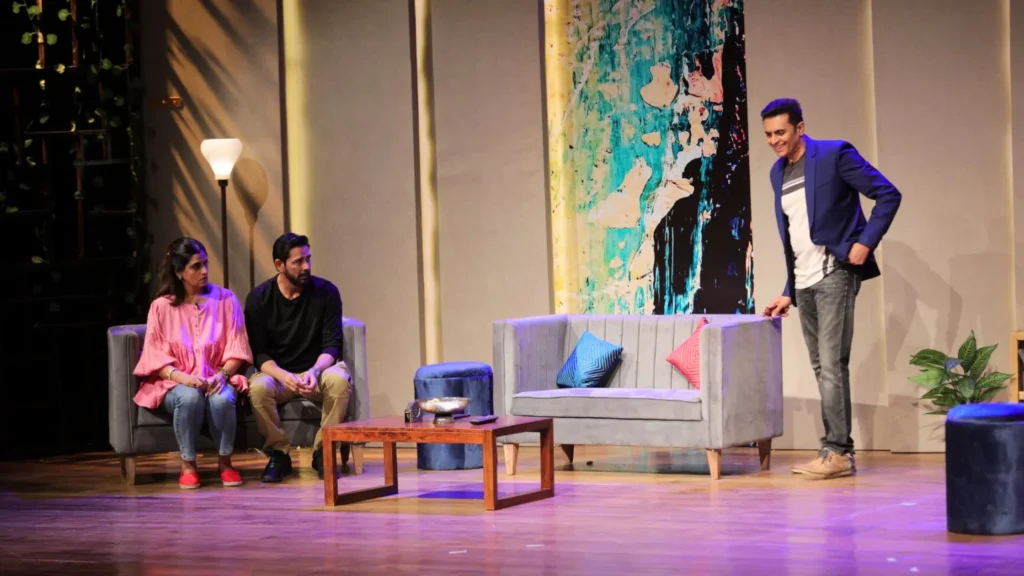 My Wife's 8th Vachan, written & directed by Atul Satya Koushik, is a funny and family-friendly play by The Films and Theatre Society that lasts for around eighty-five minutes. It takes inspiration from our marriages and explores the puzzling concept of "marriage."
---
Also Read – Sankarshan Via Spruha – Now Listen To Evergreen Marathi Poems and Entertaining Stories!
---
Undoubtedly, today, we are living in a world where endless arguments have become the language of love. And this is bound to happen, especially between two people who love each other. Similarly, My Wife's 8th Vachan also revolves around the same topic.
As the play starts, we get to meet Madhur (played by the versatile Anup Soni) and Mahak (played by the charismatic Monisha Singh Katial), a couple who have spent 15 years together. Madhur is a man who dreams of becoming a stand-up comedian. On the other hand, Mahak is a social media enthusiast & influencer, lost in the whirlwind of likes, shares, and comments.
Furthermore, as time has passed, the once-bright spark in their relationship has faded, leaving behind a trail of everyday quarrels and small-small fights over useless things.
Due to these ongoing daily fights and quarrels among them, their daughter, full of frustration, decides to stay in a boarding school, away from them. In addition to this, she also decides not to visit their parents back until they stop fighting or start staying happily and peacefully together.
My Wife's 8th Vachan Video
Here is a short video of My Wife's 8th Vachan –
An Unexpected Visitor Who Brings A Twist
Now you might think that My Wife's 8th Vachan is just another play surrounding around the concept of marriage. But, well, it is not exactly how it sounds.
Just when it seems like their fights might never end, a man from the past – Daksh (played by Vinay Jain), enters the scene. He holds the key to a promise Mahak made years ago to him.
A promise that could unlock the door to their tangled hearts.
A promise that could free both of them from these daily quarrels and fights.
In short, allowing them to live happily and peacefully ever after.
This is the 8th promise – "The 8th Vachan" that Mahak made to Daksh approximately 15-17 years ago. Indeed after the 7 promises (Saat Vachan) made to Madhur during their marriage rituals by Mahak.
In order to avoid completing this 8th promise (The 8th Vachan), Madhur and Mahak are forced to confront the issues in front of Daksh in a form of a live test. Of course, these are the issues which they've been avoiding from each other for so long. Issues that kept piling up due to the lack of communication and conversation between them.
The situation might seem a bit far-fetched at first, and you might even wonder why just they don't kick the unexpected guest out. But beneath the surface, it's a testament to their willingness to peel back the layers of their relationship and face their struggles.
Now to reveal the 8th Vachan (promise) as well, the test would be a spoiler for the play.
Therefore, to know what exactly this promise is and all the consequences followed by this promise, you need to watch it in one of their upcoming shows of My Wife's 8th Vachan.
My Wife's 8th Vachan Is More Than Just Laughter – It Is A Play That Holds a Mirror
My Wife's 8th Vachan's charm and purpose remains undeniable. This play holds a mirror and lets the audience reflect upon themselves. Koushik's skilful touch has created a playful comedy play that goes beyond mere entertainment; it offers a reflection of our own relationships.
My Wife's 8th Vachan reminds us that amidst the chaos of life, love and humour always find a way to coexist.
So, if you're looking for a hearty laugh paired with a touch of self-discovery, don't miss the chance to watch this light-hearted, sweet play. Who knows, you might just find yourself reflecting on your own promises and the "Eighth One" you didn't realize you made.
---
Also Read –
Yada Kadachit Returns Natak Review – 4 Reasons To Watch Now!
Gajab Tichi Adaa Natak Review – 4 Reasons You Need To Watch It Now!