Are you looking for an enthralling experience in Marathi theatre? Look no further than Charchaughi, which is back after 31 years and has been running successfully, marking its 75th show on 11th February 2023 at Master Deenanath Mangeshkar Natyagriha, Vile Parle, Mumbai.
Charchaughi has already started receiving high praise with housefull shows for its compelling storyline, brilliant acting, impressive dialogues and exceptional production values. Here's my praise towards Charchaughi in terms of a review and why it is a must-watch Marathi natak to witness excellent direction and acting.
---
Also Read – The Best Marathi Natak – Aamne Samne – A Blockbuster Hit With Modern Story – All Presented in A Hilarious Way
---
The Plot of Charchaughi
Charchaughi, written by Prashant Dalvi and directed by Chandrakant Kulkarni, has a thought-provoking plot that revolves around a mother and her three daughters. The story talks about unusual decisions made by the three daughters in their lives due to their independent thinking. These emotions and decisions are personal to themselves; this Marathi natak tries to showcase women's emotions during the early 90s. 
Charchaughi takes you on a journey of unforgettable emotions and some laugh-out-loud comedic moments as well. The title of the play, derived from a common Marathi phrase meaning that means "four others" or "ordinary people", ironically refers to four women who are anything but ordinary.
Aai (The Mother) had three daughters from an affair with a married man; Vidya is on the brink of taking a divorce from her husband due to certain issues, Vaiju is the primary breadwinner in her household while her husband can't hold down a job for more than two weeks, and Vinita is in love with two of her friends and wants to marry and start a life with the both of them. The writing in each scene is so powerful and well-crafted that the impact lingers even after the curtain falls.
Charchaughi focuses on throwing light towards men's and women's relationships and how every woman has the right to choose and decide for their relationship.
One of the most interesting things about the Charchaughi Marathi natak is the natak being "Teen Anki". As the Natak has two mid intervals of 10 minutes. Every part of this Marathi natak focuses on either of the daughter's emotions, issues, and decisions. 
Each line, every scene, and every performance in Charchaughi uncovers a truth about the struggles of women that often goes unnoticed. The characters in the play tell the story of countless women who have faced similar hardships in their married life.
The energy in the theatre was evident and empowering, with multiple applauses as if they were reliving their own experiences. Despite being written and first staged in 1991, the play remains ahead of its time. I highly recommend taking your grandparents and family members to see it and be sure to bring along tissues, as this production is sure to move you to tears.
The Cast Of Charchaughi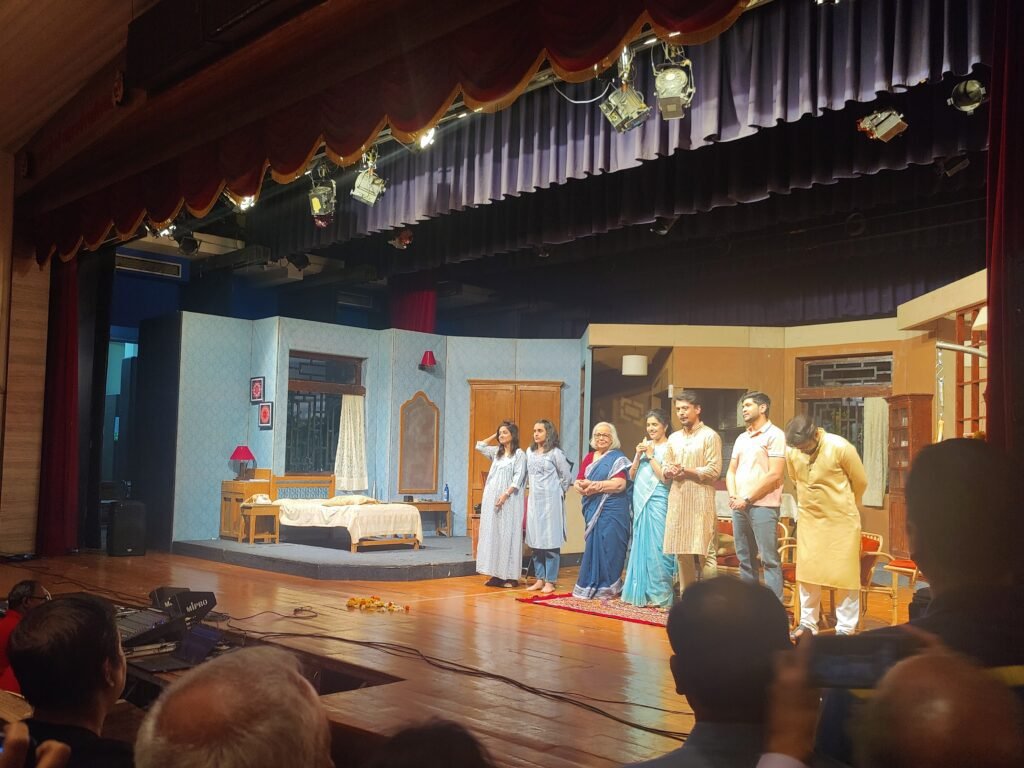 The new cast features Rohini Hattangadi as the mother (Aai), Mukta Barve as the eldest sister (Vidya), Kadambari Kadam as the middle sister (Vaiju), and Parna Pethe as the youngest sister (Vinita). Their performances are simply captivating and leave a lasting impression. Most importantly, Mukta Barve's performance in the phone call scene is particularly noteworthy and truly spine-chilling.
A fun fact, the direction and timing of the artists are so top-notch that you can witness them changing clothes within seconds of the blackout. This hard work is worth being watched for.
The Production Values of Charchaughi
Charchaughu is produced by Jigisha Creations, and its production values are exceptional. The sets, lighting, and sound effects are all of high quality, and they enhance the overall experience of the play. The play is a visual treat, with colourful costumes and vibrant sets that transport the audience to a different world. The attention to detail in the production design is evident, and it adds to the authenticity of the play.
Why Should You Watch Charchaughi?
Charchaughi is a must-watch for anyone who loves theatre, drama, and effective storytelling. The play is a perfect combination of humour, drama, and emotion, which makes it appealing to audiences. The acting is superb, and the production values are exceptional. The play is sure to leave you in stitches.
Conclusion
Charchaughi is a Marathi natak that is a testament to the talent of the Marathi theatre community. The play has received high praise for its compelling storyline, brilliant acting, and exceptional production values.
Do book your tickets and watch this marvel of acting gem. The next shows of Charchaughi can be found on Bookmyshow. You can book your tickets here – Charchaughi Tickets On Bookmyshow
---
Also Read – Experience the Magic of Kaali Rani Marathi Natak – Vijay Kenkre's 100th Play!