Awagha Rang Ekachi Zaala, written & directed by Dr Meena Nerurkar, is a musical Marathi Natak that is back after so many years on the Marathi stage. This musical drama beautifully combines together old & modern culture, music, and family complexities.
Awagha Rang Ekachi Zaala is surely an experience that shows a fusion of tradition and modernity. Thus, if you are planning to watch this Natak, then here is my personal review blog of the same.
Awagha Rang Ekachi Zaala Natak Video
Here is a short glimpse video of the new Marathi Natak: Awagha Rang Ekachi Zaala –
Awagha Rang Ekachi Zaala Natak Story
Awagha Rang Ekachi Zala Natak is a heartfelt musical story about Appa Velankar (played by Pramod Pawar) a respected 'Kirtankar' and Jenny, (played by Shraddha Vaidya) an American return teenage girl.
As the curtain opens, we get to see Appa Velankar's family. His son Sopan (played by Omkar Prabhughate), his daughter Mukta (played by Gauri Sukhatankar), and his wife (played by Aparna). Sopan is a musician, and he aims to spread his dad's ancient & traditional music art form (Kirtan) all around the world. But with a modern infusion and twist.
---
Also Read – 5 Best Marathi Natak To Watch In 2023!
---
However, his dad strongly disagrees & dislikes his idea of spreading their traditional Kirtan to the world using modern musical methods. Due to the clash of opinions between Sopan & his dad, they get into a big fight. Resulting to which, Sopan's dad asks him to leave their home if he wants to keep doing the same thing. This leaves the family broken & apart.
Amidst this, as Appa's choices have rippled through his family, he also opposes his daughter Mukta's love since the boy she loves is from a different caste. Awagha Rang Ekachi Zaala showcases multiple emotions within the Velankar family and tries to bridge the generation gap between the old and the youngsters.
With all these complexities & tension going around the house, there comes Jenny. She is a spirited teenager from the United States who injects a completely new energy into the Natak. She has come to Apa Velankar to learn the traditional art of Kirtan and becomes Appa's disciple, embracing the essence of the Gurukul way.
As she learns the art of Kirtan, she also comes to know how Apa Velankar has divided his own family due to his ego, old thinking, and mindset. Seeing all this, she then decides to reunite the Velankar family in every way possible. This adds an engaging twist to Awagha Rang Ekachi Zala Marathi Natak.
So what do you think?
Does Jeny succeed in reuniting the Velankar family?
Will Appa pass on his wisdom of Indian traditional Kirtan to Jenny?
Will Sopan be given a chance to showcase his fusion Kirtan?
Will Mukta be allowed to marry the person she loves?
Now, to know the answers to these questions, you would need to watch one of their upcoming shows of Awagha Rang Ekachi Zaala.
You can book your tickets here – Awagha Rang Ekachi Zaala Booking
Awagha Rang Ekachi Zaala Is A Complete Musical Spectacle
One reason that makes Awagha Rang Ekachi Zaala a must-see is its music and live singing. Indeed, it's the reason for which this Natak has already done more than 400 shows in the past. And now, with a completely new team, it acts as a real treat for music lovers.
In between the story, we're treated to the wonderful experience of hearing beautiful & evergreen classical songs, which are delivered with flawless vocals by all the artists. And that too, live.
The Natak is so infused with traditional classical music that you'll find yourself lost in its melodies and songs. Each actor's singing of the songs is so skilful that watching them sing live, accompanied by the live tabla and harmonium, feels truly incredible.
The evergreen & famous musical notes and heartfelt songs create an atmosphere that's both nostalgic and soothing.
Sandesh Bendre's 100th Set Design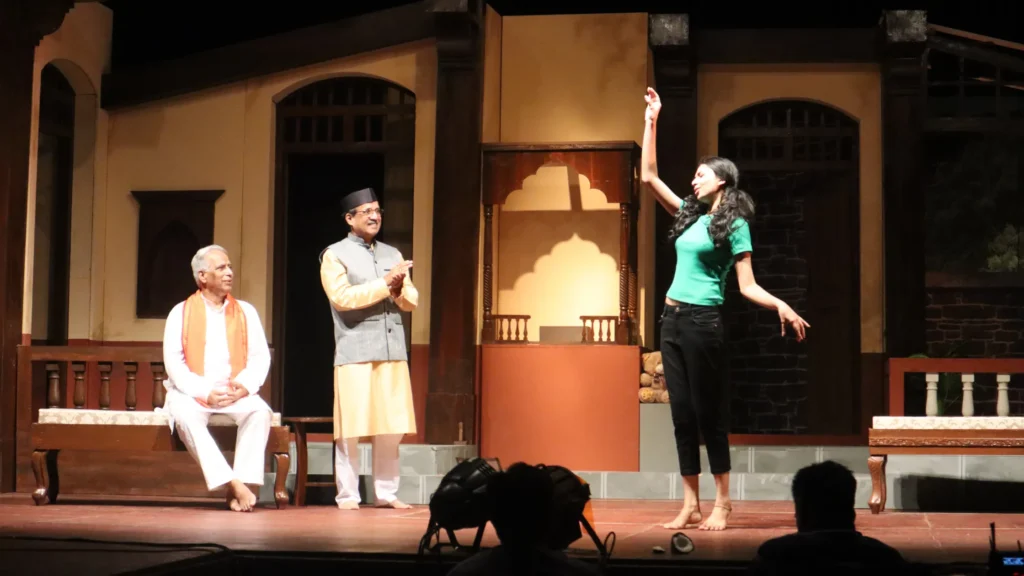 The set of Awagha Rang Ekachi Zaala is once again a creation of the well-known Marathi set designer Sandesh Bendre. The set portrays an old-fashioned house, just like the ones in the past.
Most importantly, this marks Sandesh Bendre's 100th set design created for a commercial Marathi play, adding an intriguing layer of interest to both the Natak and its set.
A Beautiful & Sweet Message To Take Back Home
Awagha Rang Ekachi Zaala aims to spread a needed message of bridging the generation gap between the old & today's generation, all with soulful music & a sweet plot. This natak captures the essence of cultural evolution.
The songs sung in Awagha Rang Ekachi Zaala is an experience that will surely stick to your heart. And even be in your minds after the Natak ends.
Last, but not the least, Awagha Rang Ekachi Zala is a rare musical treat that combines the colours of life into a harmonious symphony.
---
Also Read –
Kirkol Navre Natak Review – Now Watch A Perfect Comedy Tale of Twists & Relationships!
Sankarshan Via Spruha – Now Listen To Evergreen Marathi Poems and Entertaining Stories!