"Rent a car" has now taken up the world as the new trend. It has now become the most convenient and the most comfortable way of exploring a new city or a country, especially in Europe, where people have started opting for self-drive cars to explore some hidden gems of the country. The Czech Republic, a country of love, has some of the world's most awe-inspiring places. It's a country that has beautiful scenic views, stunning old-time castles, and whatnot. 
---
Please Note – This blog contains affiliate links, and I earn a small commission if you click on them
---
Moreover, Indian drivers can now easily rent a car in the Czech Republic with the help of their Indian Driving licence alone.
But in case you are wondering about the process of renting a self-drive car in the Czech Republic, here's a complete guide for it.
How To Rent A Car in the Czech Republic?
When it comes to renting a car in the Czech Republic, there are many websites available that offer self-drive car rental services online. Therefore, quoting from my own experience, I highly recommend Discover Cars for their competitive prices and additional benefits.
I have personally used their services in Poland, the Czech Republic and Turkey and have found that they offer lower rates than booking directly with the operator. Additionally, they offer 24/7 customer support, free cancellation, and no hidden fees.
With a presence in over 145 countries, 10,000 locations, and 500+ partners, Discover Cars is a convenient option for renting a car in the Czech Republic. They also have a multilingual website that makes it easy to navigate and compare prices and offers.
What Is The Cost Of Renting A Self Drive Car In The Czech Republic?
The average cost of renting a car for a day in The Czech Republic, including full insurance coverage from Discover Cars itself and excluding the price of the GPS Navigation device, is as follows –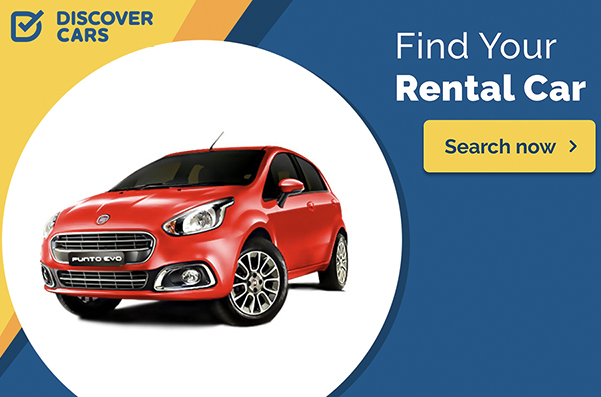 | | |
| --- | --- |
| Cab Category | Prices (INR) |
| Economy – Volkswagen Polo or similar | 4,800 – 7,000 |
| Compact Volkswagen Golf STW or similar | 5,000 – 8,000 |
| Intermediate Hyundai i30 STW or similar | 5,100 – 9,000 |
| SUV Kia Sportage or similar | 5,500 – 10,000 |
| Passenger Van Toyota Proace City or similar | 13,000 – 17,000 |
| Economy Skoda Fabia STW or similar | 5,000 – 8,000 |
| Premium Mercedes-Benz C Class Aut. or similar | 33,000 – 40,000 |
Please Note – When you book through Discover Cars, 10% of the total amount needs to be paid online. The rest of the amount needs to be settled directly with the rental car operator.
Should I Buy Full Insurance Coverage for Rent A Car in The Czech Republic?
Yes, you should definitely buy full insurance coverage if you are renting a car for the first time in the Czech Republic. However, I would recommend you to buy the full insurance package directly through the rental car operator when you are picking up your car.
Do read my blog on How To Rent A Car In Poland With An Indian Driving License: A Step-by-Step Guide, for more information on full insurance coverages.
Should I Buy a GPS Navigation Device For Rent A Car In the Czech Republic?
Actually, no. Using Google Maps can save you money as it provides sufficient navigation assistance, including lane direction and speed limits. You don't need to purchase a separate GPS device if you are planning to rent a car in the Czech Republic.
Documents Needed To Rent A Car In The Czech Republic
If you are planning to rent a car in the Czech Republic, please note that it is important to have a valid International Driving Permit (IDP) as it serves as official proof of your driving qualifications and a valid Indian Driving Licence.
You can read my blog on How To Apply For An International Driving Permit In India to know the list of the exact documents.
Things To Keep In Mind While Driving In the Czech Republic
Please keep the following things in mind before you rent a car in the Czech Republic –
Make sure to familiarise yourself with all the traffic rules and signs.
The Czech Republic follows right-hand driving, so make sure you are comfortable driving on the right side of the road before hitting the road.
Following are the speed limits in the Czech Republic – 50 km/h in built-up areas, 90 km/h on main roads, and 130 km/h on motorways.
The use of seat belts is mandatory for the driver and all passengers.
Drinking and driving is strictly prohibited and is a legal offence.
Some motorways in the Czech Republic require payment of tolls, so make sure to carry enough cash/credit to pay for the same.
If you are planning to drive in the Czech Republic during the winter or during the snow season, make sure to have winter tires and be prepared for snowy and icy conditions.
It is recommended to have emergency contact numbers such as emergency services (112) and breakdown services (1230) handy in case of emergency.
Beautiful Road Trip Ideas In The Czech Republic
As a traveller, I have had the pleasure of exploring this beautiful country and its picturesque countryside and charming towns. From winding roads through the Bohemian Paradise to drives through quaint towns and vineyards, the Czech Republic has something for everyone. Here are some of my personal favourite road trip ideas in the Czech Republic that I highly recommend –
Bohemian Paradise: This is a scenic route through the heart of the Bohemian Paradise region. The drive is truly magical, passing through charming towns such as Turnov and Icin and beautiful rock formations unique to the region. A stop in the charming town of Hluboskarsko is highly recommended for hiking and picnics.
Czech wine routes: If you are a wine lover like me, this is the road trip for you. The South Moravian region is known for its wine, passing through beautiful vineyards and charming towns such as Mikulov and Valtice. . We recommend stopping at wineries along the way to taste delicious local wines.
Eagle Mountains: This route is perfect for nature lovers and hikers. The Eagle Mountains offer beautiful scenery and numerous hiking trails. Don't miss the opportunity to visit the charming towns of Ceska Skalice and Nove Mesto nad Metuji along the way.
Sumava National Park: For true nature lovers, this route passes through Sumava National Park, known for its beautiful forests and hiking trails. Visit charming towns such as Kaspersky Hory and Prachatice and soak up the region's natural beauty.
Bohemian Switzerland National Park: This route passes through the Bohemian Switzerland National Park, known for its beautiful rock formations and hiking trails. This ride takes you through charming towns such as Dechin and Frensco. We recommend taking breaks and hiking through the park for a truly breathtaking experience.
No matter which route you choose, the Czech Republic is full of breathtaking scenic drives. Pack your bags, grab a map, and set off on an unforgettable road trip experience.
---
Also Read –
Schengen Visa Is Free For AIESEC Exchanges! Here's How To Apply For Poland Visa In 3 Simple Steps For AIESEC Exchanges
Car Rental In Turkey – How To Rent A Car In Turkey With Indian Driving Licence From Istanbul Aiport?