Vivanta Navi Mumbai Turbhe, a newly built 5-star hotel, has already gained a reputation for its impeccable service. I recently had the opportunity to experience this first-hand during a stay on New Year's Eve, and I can confidently say that it lives up to the hype.
As I entered the hotel, I was immediately struck by the opulent atmosphere of the lobby, with its chic and modern design setting the tone for my stay. The staff at Vivanta Navi Mumbai Turbhe are incredibly courteous and embody the hospitality of Taj Hotels, offering a refreshing welcome drink and even applying a traditional "Tilak" on the forehead for good health and prosperity upon check-in.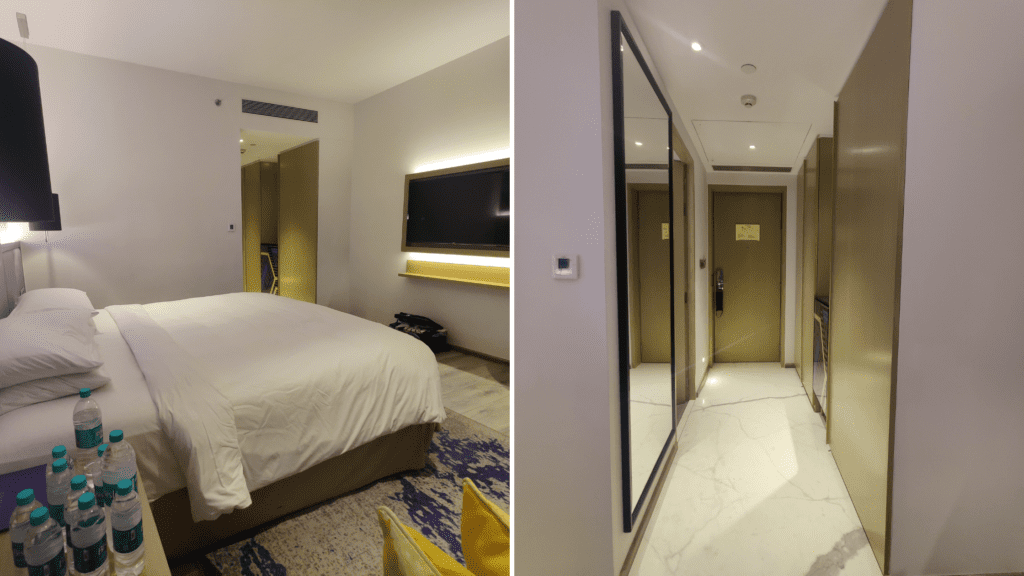 Upon being shown to my room, I was pleasantly surprised by the spacious and well-appointed space, which was tastefully decorated and featured all the amenities I could possibly need, including a comfortable bed, a flat-screen TV, and a mini-bar stocked with snacks and drinks.
Vivanta Navi Mumbai Turbhe Has It All
The real highlight of my stay was the exceptional service provided by the staff at Vivanta Navi Mumbai Turbhe. From the moment I arrived, they were friendly, attentive, and always willing to go above and beyond to ensure I had a comfortable and enjoyable stay, whether it was bringing extra towels to my room, asking for feedback, offering great in-room dining service, and much more.
In addition to the top-notch service, Vivanta Navi Mumbai Turbhe also offers a range of amenities, including free unlimited drinking water bottles, free valet parking on site, concierge services, on-demand transport/taxi services, and a fully-equipped fitness centre, 24 hours in-room-dining and spa offering a range of relaxing treatments.
Overall, my stay at Vivanta Navi Mumbai Turbhe was truly unforgettable, with luxurious rooms and exceptional service surpassing all of my expectations. I highly recommend this hotel to anyone seeking a 5-star experience in Navi Mumbai.
Image Credits – Vivanta Navi Mumbai Turbhe
Also Read –
Wish To Travel The World For Free? – Here's My Experience In Poland With WorkAway