Kuni Govind Ghya, written & directed by Deepesh Sawant, and produced by Monali Tangadi, Shekar Date, and Durva Sawant, is a Marathi Natak that explores the funny idea of why a once-in-love couple now wants a divorce. It is a story of a couple who were deeply in love. However, they are now seeking a divorce. But for what reason?
And if you are also planning to watch Kuni Govind Ghya, then here is my personal review blog of the Natak.
Kuni Govind Ghya Natak Video
Here is a small video of Kuni Govind Ghya Natak –
Kuni Govind Ghya Story
The story of Kuni Govind Ghya revolves around a once-in-a-love couple, Aditya & Sandhya, who are now planning to get a divorce. Aditya is a Marathi Natak writer, while Sandhya loves watching TV dramas & serials.
---
Also Read – Kirkol Navre Natak Review – Now Watch A Perfect Comedy Tale of Twists & Relationships!
---
In order to get the divorce, they take the help of one of their closest friends, Vivek, who also happens to be a lawyer, to represent them and present their case before the judge. As per Sandhya & Aditya, they both are seeking a divorce as they are tired of their daily, repeated, baseless arguments.
Moreover, they've already tried getting a divorce three times before. But their appeal got denied as the judge didn't find any solid reason to approve their divorce appeal. Now this will be their fourth attempt to appeal for divorce again.
Kuni Govind Ghya Natak showcases the story of this couple in a hilarious set that uncovers their past secrets, laughter, and the ups and downs of a husband-wife relationship.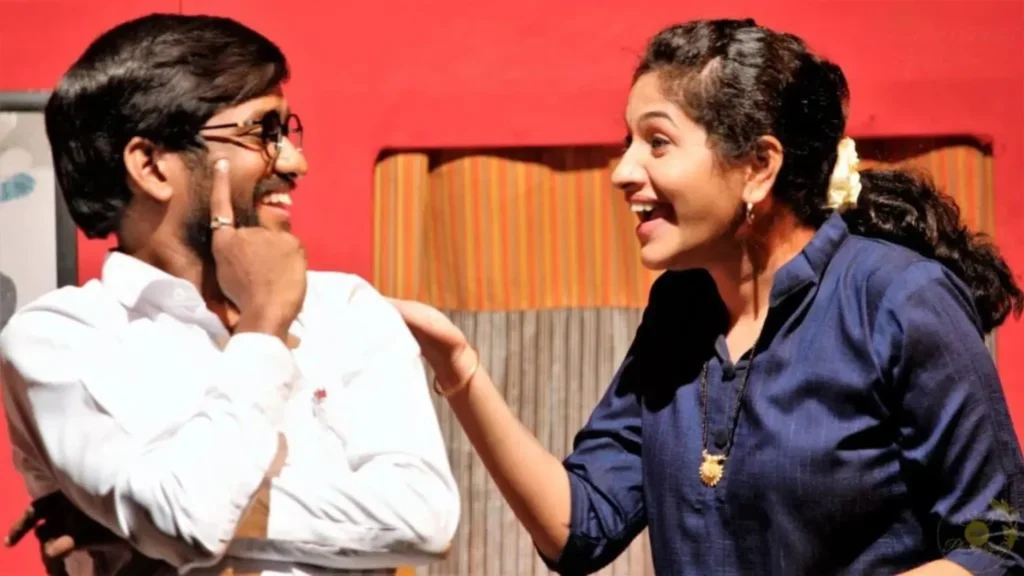 On the other hand, Vivek is still searching for a valid reason for their separation. But he still cannot find a strong reason for their divorce appeal. And that's how the set of comedic chaos and arguments start among these three.
Most importantly, Vivek still keeps pondering the question of why Aditya and Sandhya are planning to get a divorce. This mystery will surely keep you guessing. As the story keeps unfolding, we get to know the real reason why Sandhya and Aditya are seeking a divorce from each other. We learn more about Sandhya's motivations, all while enjoying their comedic plot.
Now the reason for their divorce introduces a major twist in Kuni Govind Ghya Natak, turning the story in an exciting and suspenseful way that captures the audience's anticipation.
But to tell what exactly the reason would be a spoiler for the Natak. Therefore, it is something that you need to watch in one of their upcoming shows of Kuni Govind Ghya.
You can book your tickets here – Kuni Govind Ghya Natak Tickets
Kuni Govind Ghya Cast
The trio cast of Kuni Govind Ghya, Prasad Raorane, Siddhesh Nalawade, and Vibhuti Sawant has done a really amazing job. Furthermore, Vibhuti Sawant just shines in the entire Natak with her exceptional acting skills. Her impeccable timing and acting skills truly steal the spotlight and dominate the entire Natak. Her acting is worth watching the Natak for, especially in the second part.
Conclusion
In short, Kuni Govind Ghya is not only a comedy Natak, but it also offers insights into married life's quirks. Among the laughs, this Natak touches on hidden feelings and secrets that make up a marriage. 
Kudos to Aditya and Sandhya's crazy journey through love, laughter, and chaos that reflects the joyful madness of married life. Last but not the least, Kuni Govind Ghya teaches us about relationships while keeping us laughing.
---
Also Read –
5 Best Marathi Natak To Watch In 2023!
Brand Ambassador Natak Review – Now Watch A New Upcoming Comedy Natak!