Sometimes, we surprise ourselves by doing things that we never imagined we could. The Kedarkantha trek for me was one of those experiences. I went on this adventurous trip with my sister through India Hikes, and it was an experience that I will always cherish.
---
Also Read –
Now Discover 11 Essential Tips To Plan A Perfect Trip To The World's Tallest Statue, The Statue of Unity!
How To Plan A Perfect 2-Day Trip To Udaipur? A Step By Step Guide For The Best Tourist Attractions Of Udaipur!
---
Joy Of The First Himalayan Trek
We were a group of 19 trekkers together, accompanied by our trek guides. Some of us were experienced, some were beginners, but all of us were equally excited about where the mountains will take us, the kind of experiences we would have, and the memories we would make along the way.
One of the moments from the Kedarkantha Trek which I was most excited about was living in tents overlooking the mountains during the day and the stars at night.
Kedarkantha is a summit trek. 12,500 ft above sea level, with nothing but panoramic views and nature all around, made me look forward to it even more! I do suggest that you plan this trip between December to February to fully experience the winter wonderland and the pretty campsites that this trek offers.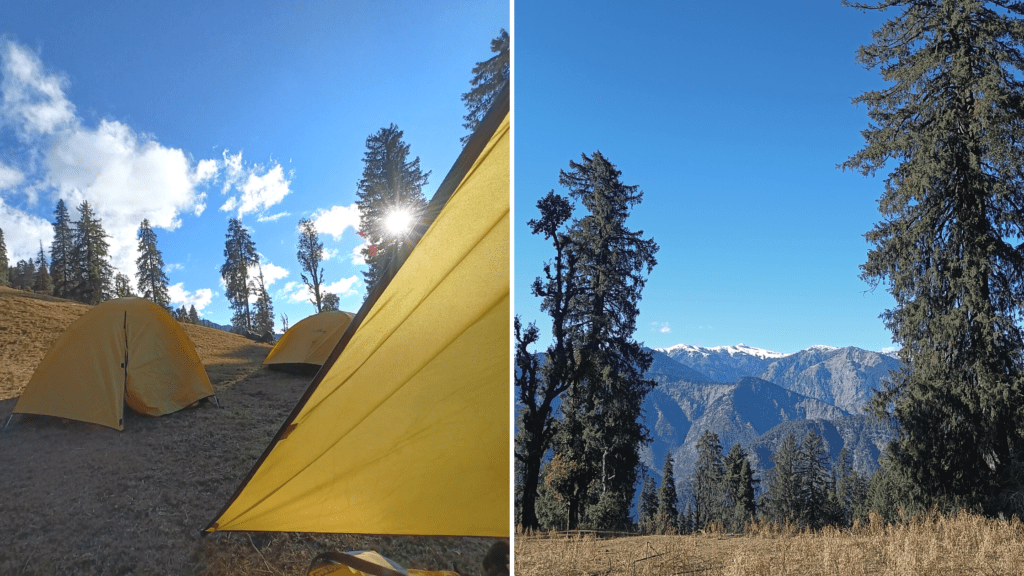 Kedarkantha is a 6-day trek that began from Gaichawan Gaon and served as the base camp. It takes approximately 10 to 11 hours to reach there from Dehradun, with a pick-up stop in Mussourie too. The India Hikes team arranges the transport for the same. The entire drive to the base camp is breathtaking, with a long stretch of pine forests alongside River Tons.
The Gorgeous Trail Of Kedarkantha And The Feeling Of Belongingness
The beauty of this trek is that the entire trail gives you the opportunity to pass through so many different kinds of sceneries. You pass through valleys and their open clearings, steep pathways, small villages, and the wilderness of the forests.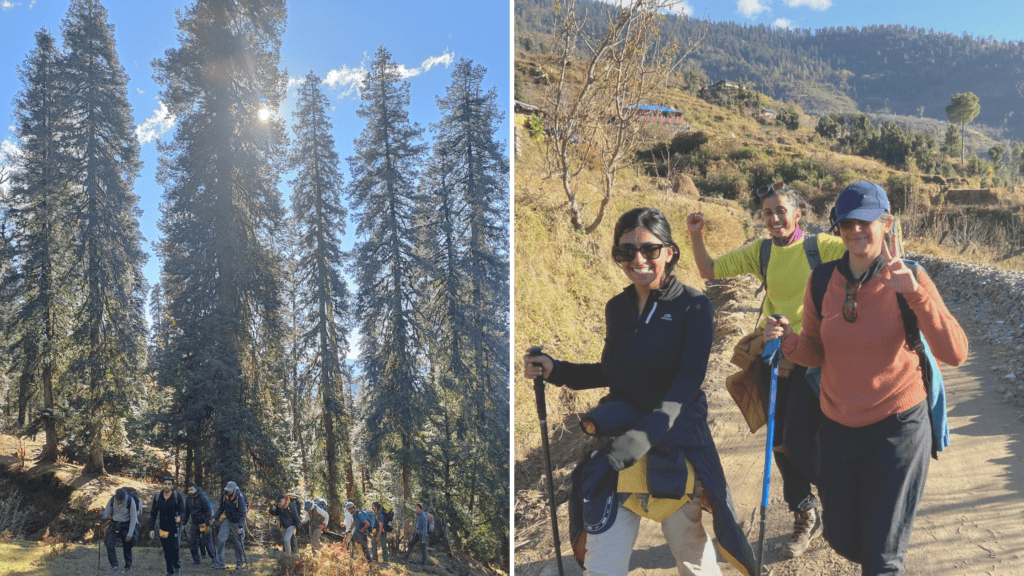 The entire trail of this Kedarkantha trek is exclusive to only the India Hikes trekkers for you to enjoy your moments of peace and tranquillity, making this trail very special. In addition to that, the team treated us with great care, and their hospitality was one of the highlights of my trek experience.
To know more about a detailed day-to-day itinerary of the Kedarkantha trek and what you can expect from this summit trek, you can visit the India Hikes page.
When you are in a place so peaceful, away from the hustle, bustle, and fast-paced life, you get time to stop, introspect and appreciate the little things. The little conversations that I had with the locals, the quiet moments I spent with myself in the wilderness, and the kind of joy I felt as we went forward and upward, will always stay with me.
First Snow Of The Season And The Most Magnificent Skies I Have Ever Seen
During the entire course of the trek, we stayed at three campsites. And I have three different but equally astounding moments from each of those sites. The first campsite Julota (8950 ft), was where I experienced one of the most breathtaking sunsets of my entire life. To witness the sky before your eyes, changing colours from yellow to deep orange, is something I will never forget.
The second one, Pukhrola (10,800 ft), was where all of us witnessed the first snowfall of the winter season. I still clearly remember how it happened.
We all had had a very long day of trekking and were ready to retire in our tents to get a good night's sleep. Overnight, the temperature dropped, and our mornings were filled with the fresh snow that covered the entire campsite and the surrounding area. A happy morning that I could never forget.
The third one, Akhoti Thach (9170 ft), was where I witnessed the magical skies at night. Watching the hundreds and thousands of stars lighting up the entire sky is a core memory that will forever stay with me. It was freezing outside at night, but we chose to stay out for a while and appreciate the magic above us.
The Day Of The Summit Climb
It was 4 AM in the morning when we were all gathered in the dinner tent, anxious and upset. It had snowed all night continuously, the weather conditions had gone extreme, and we weren't sure if we would be doing the climb.
Imagine dreaming about visiting your dream destination, but due to unfavourable conditions, your flight gets cancelled! That is exactly how we felt. Our trek leader suggested we wait for some time for the weather to clear, and luckily it did!
The trek from the base camp to the Kedarkantha summit is just like giving yourself an adrenaline rush. It was so beautiful; it seemed like you had just entered the world of Narnia. This beautiful trek took us through the dense forests, snow-covered pine trees and thick white blankets for as far as you could see.
The live snowfall was definitely a cherry on top, making it a perfect winter trek experience. It was freezing, but the soft sunlight did its trick! Indeed, it was challenging, but when you have a high-spirited group of people with you, nothing seems difficult to tackle!
After trekking through the forests, we reached a clearing, and that is where the main ascend for the summit began. It was extremely windy, and the thick layers of snow beneath our feet made it difficult to walk. But slow and steady, inch by inch, we were reaching closer to our destination.
Unfortunately, because of the changing weather conditions, it was unsafe for us to trek to the Kedarkantha summit, so we had to stop a few meters below. But we all still felt the feeling of accomplishment, a feeling of contentment.
It's true what they say; the journey is more important than the destination.
Favourite Moments And The People Who Made It Happen
Photographs capture a memory better, so here's a small photoblog of my favourite moments from the Kedarkantha trek –
We each chose a tree and hugged it for a few minutes, spoke to it, to feel closer to nature
Speaking to the locals and playing with kids
Soaking in the winter sun
Celebrating special moments together
The Green Trails Initiative
India Hikes focuses on introducing practices that reduce our impact on the environment. During the course of the trek, we picked up any visible litter on the trail and segregated it at the campsites. So as to stop all the litter from going into the landfills.
We used specially designed water dispensers to reduce water consumption. Moreover, Biotoilets were installed at each campsite which converted human waste into rich compost for the mountain soil. Every trekker that comes to the mountains can now play a small but important part in reducing the negative impact caused to the environment.
How To Prepare And Plan For The Kedarkantha Trek?
#1 The journey to the base camp starts on Day 1 at 6:30 am from Dehradun. I would suggest that you reach Dehradun or Mussourie (via flight or train) a day in advance so you can get the much-needed rest before the trek.
#2 This will not be an ordinary travel trip, so it is important that you pack everything well, but most importantly, pack only what you need.
#3 While returning back from the trek, you would reach Dehradun at 6 or 7 PM in the evening. My suggestion again would be to plan your travel back to your hometown after 9:30 pm or the next day.
#4 Physical fitness is extremely crucial for any trek. It's important that you start building up your stamina 2 to 3 months prior to the Kedarkantha trek by engaging in physical activity like walking or running.
#5 Carry quick trail snack items with you, such as energy bars, dry fruits, and peanuts, so you sustain your energy and don't feel too tired while trekking.
#6 Stay hydrated, but don't drink too much water. Make sure to always fill water from the streams that you may come across on the trail.
#7 BSNL is the only network that works in mountain regions, so don't forget to buy a separate BSNL card for this trip to stay in touch with your family.
List Of Items You Must Have For Kedarkantha Trek!
Trekking shoes with ankle support (also available for rent at India hikes)
A backpack with rain cover
4 to 5 layers of Warm winter clothes – thermal wear, a collared shirt, a sweater, and then a padded jacket
Woollen cap, socks and snow gloves
Quick dry trek pants
Head torch (available on rent)
Trekking pole (also available on rent)
Sunscreen and Moisturizer
Light towel
Medicine kit
Toilet paper
Power Bank
Sunglasses
Your own cutlery – a steel tiffin box/plate, spoon, and fork
Water bottles
All your important documents – Aadhar card, Medical, and Disclaimer certificate
This trek, for me, was a reminder to always seek discomfort, go out there and have all those adventures, and experience all those breathtaking moments that make you feel more and more alive.
---
---
Also Read –
Van Gogh 360 Mumbai Review – An Artistic Experience For The Soul!